DutchCraft's versatile DC25 is realising its potential as a flexible superyacht tender, after its successful launch at Boot Düsseldorf in January. Originally billed as an all-rounder, it is making a name for itself as a fast, comfortable shuttle boat for the hospitality industry and for ship-to-shore passages on superyachts. "Superyachts don't simply have one tender to shuttle guests – they often have separate craft to take guests diving, to the beach for a picnic, or to bring provisions on board," said DutchCraft founder and owner Sietse Koopmans. "The idea behind the DC25 was to combine all these tenders into one. That way you free up more interior space on board the superyacht for toys or other uses."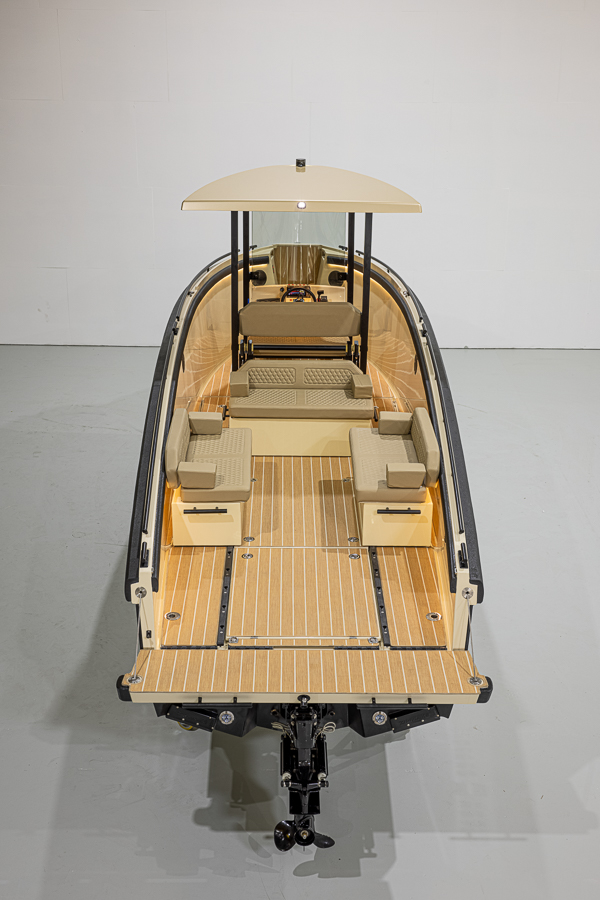 Clean, quiet propulsion
At the heart of the DC25's stellar performance is its powerful 100kW DC motor, supplied by up 134kWh of lithium batteries. With impressive 94% efficiency, the high-voltage motor offers class-leading range and near maintenance-free operation – a big plus for a hard-pressed superyacht crew. At full speed, expect around 75 minutes of cruising time – enough for numerous runs ashore. At a more economical 6 knots, you would get seven-and-a-half hours of run-time between charges. Charging is rapid, with the ability to fully replenish the 106kWh battery bank in as little as two hours.
Electric propulsion is not just for eco-conscious boat owners, of course. It eliminates the need to bunker flammable fuel on the mothership and gives free access to the growing number of harbours and inshore waters where hydrocarbons are no longer tolerated, from Amsterdam to the Norwegian fjords. The electric drivetrain has another eco benefit, too. Its high-quality lithium batteries are reconditioned by Tesla, whose technology is at the cutting edge. They are getting a second life thanks to DutchCraft.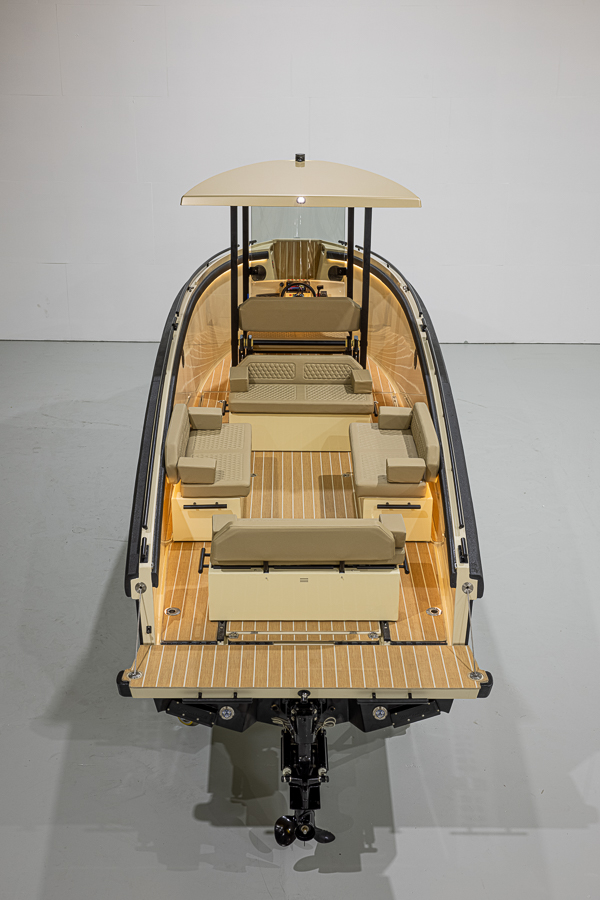 Elegantly versatile
The whole boat is designed with pragmatic use in mind. The unique deck railing system means that almost any conceivable module can be built and easily fixed in place. You could fit banks of luxurious seating to pick up guests one minute, then swap out for a custom rack for up to eight dive sets the next. Or transform it quickly from a limo tender to a provisioning boat.
With the helm console positioned far forward, there is room on the aft deck for a mini-submersible or a sailing dinghy up to 5m LOA. And DutchCraft has already engineered a number of standard modules, including bike racks. The boat is designed with a drop-down, walk-through bow. So, after motoring gently up to the beach, you simply lower the bow door so guests can step ashore without getting wet feet. And of course, a high-quality sound system, deck shower and drinks fridge are all on the options list.
A dream to stow
Dutch Craft has thought hard about stowing the boat on the mothership. Thanks to carbon fibre construction, the boat weighs less than 2 tonnes (dependent on the options chosen). The hardtop over the helm station is cleverly designed to fold down flush with the top of the bulwarks, reducing the height. Four custom-designed lifting rings simplify the job of craning the boat out.
The young, dynamic team behind the DutchCraft is constantly developing and improving the design to make the DC25 lighter, leaner, more efficient. The technology behind electrical propulsion is rapidly evolving, too, but the key characteristics of the concept are well defined. "The hull was refined for good speed potential, and we have ensured that it is a very comfortable boat to ride," added Sieste. "It has a rounded spray rail to keep passengers dry, and high topsides for optimum protection. Combined with the quiet, emissions-free propulsion, the limitless deck configuration and custom finish, we believe that the DC25 is going to prove very interesting as a tender for superyachts"