DutchCraft shipyard has unveiled the first unit of its DC25 full electric, carbon fiber tender. The innovative boat is the second model in the young Dutch brand's line-up of multipurpose, capable and fun yachts. It has a modular deck design that allows for fast and easy changes between operational modes such as superyacht tender, dive boat, sport fisher, toy carrier and family cruiser.
A clean and silent force
DutchCraft explored the opportunities and the challenges involved in the evolution from combustion engines to hybrids or fully-electric drivetrains. This transition led to a totally new approach to the design of a superyacht tender.
The low and compact drivetrain frees up a ton of deck space, which DutchCraft optimized by implementing a modular deck system that is able to support a wide variety of purposes.
The maximum battery capacity is 134kWh, while the continuous power is 100kWh. The boat is able to cruise fast at 32 knots for up to 75 minutes, which is more than enough to deliver guests from a superyacht to the shore and back several times, or even to go waterskiing. At the same time, it can cruise for up to six hours at six knots, which allows peaceful exploration of hidden bays or islands for a day trip with no fumes or noise whatsoever. 
"We believe electric propulsion will be key in a future that cares about ocean preservation," said DutchCraft Marketing Coordinator Floris Koopmans. "We are committed to investing in this positive movement, and the technology that we have developed for the DC25 is a step in the right direction."
Flexible and practical
The key features of the new DutchCraft 25 are robust and practical design, capacity, flexible layout, range and ease of use. The boat has an efficient V-shaped hull form and simple one-level deck with a number of seating options.
Almost the entire space is open, except for the helm station, which is covered by a hardtop, while a front glass protects the driver from possible strong wind gusts. This hardtop is collapsible, which is an advantage and saves a lot of space when stowed in a garage.
We believe electric propulsion will be key in a future that cares about ocean preservation

Floris Koopmans
Another unique layout feature is the proprietary hinged bow doordesign. Guests can walk directly to and from the beach via the foredeck, without the risk of getting wet.
High sides give an enhanced sense of safety and protection, while the transom opens to create a spacious swim platform from which to dive or sunbathe.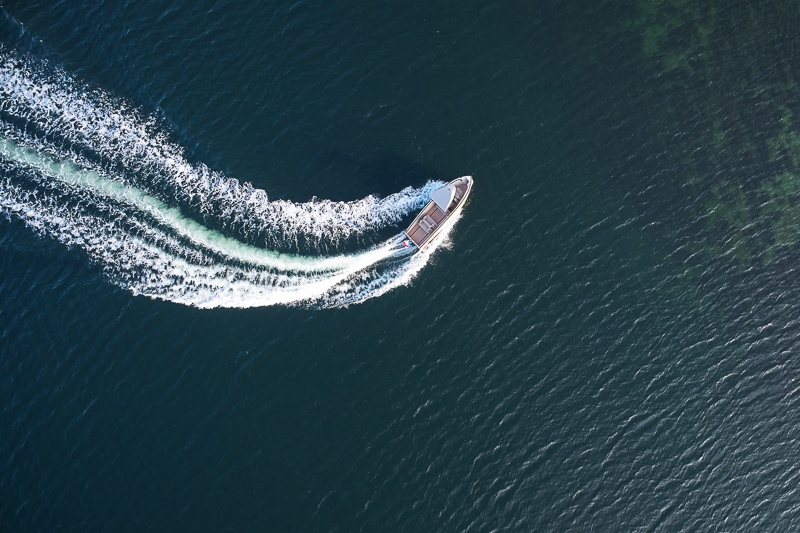 Space, space, space
In the DC25, DutchCraft has created a model that fits as many requirements as possible into one boat. Behind the center console, furniture and fixtures are quickly interchanged along double deck railings, such as padded bench seating or custom dive racks. The benches can be converted into different set-ups to change passenger interaction on board. When the deck is cleared, there is enough space to transport a land vehicle, a pair of jetskis, provisions or accessories.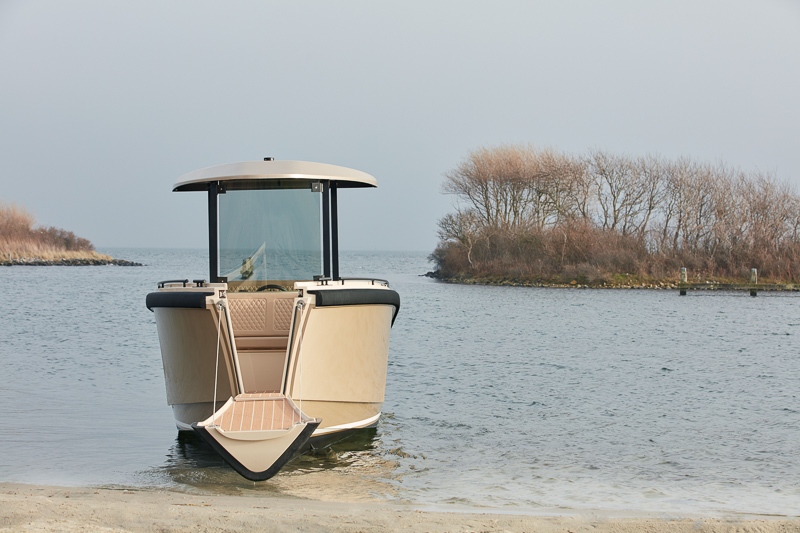 Additional padded benches convert the DutchCraft DC25 into a comfortable guest shuttle with space for up to 12 passengers. The boat is perfect for diving fans; there is a custom rack module for up to eight dive sets, complemented by a back-to-back bench layout and storage for two Seabob underwater scooters.
For showers, rinsing and wash-downs, the freshwater tank has ample capacity. The aft area of DutchCraft's electric tender is large enough to carry several motocross bikes or stand up paddleboats, a compact submarine or a 5-meter sailing dinghy.