It has been ten years since history has been made. In 2009 Audi R8 became the first car in the series to host 5.2 V10 engine. This was no small feat of mechanical engineering and car design. To mark ten years since its rollout, German car manufacturer decided to release Audi R8 V10 – Decennium.
This beast of a car comes can unleash some impressive power. Decennium holds 620 horsepower under its hood. An achievement made possible by Audis aspirated engine. A true marvel of German engineering. This bad boy takes only 3.1 seconds to reach 62 mph. An impressive result for any supercar. Once you reach 62 mph, you can keep pushing gas till you reach 206 mph. truly, a speed not meant for mere mortals!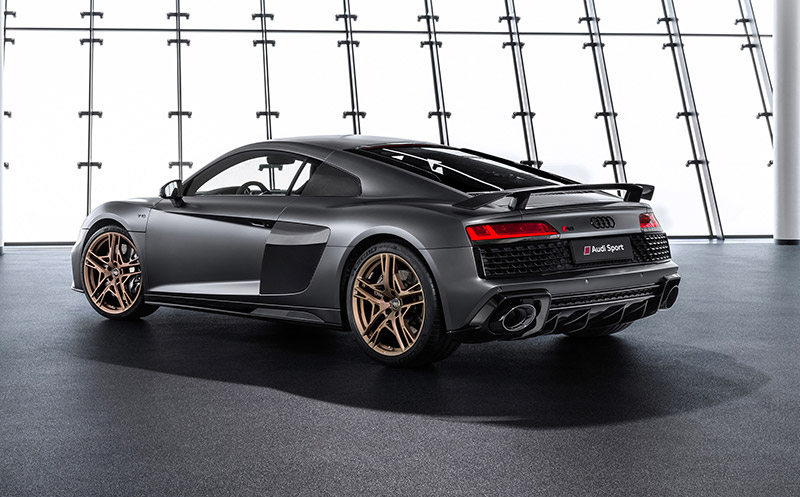 The engine is not the only thing making a return. The model comes with signature virtual cockpit and Multi-Media interface included. This replaces analogue with TFT screen, making information and entertainment systems more convenient and accessible. This system is controlled by both drivers voice and control buttons placed on steering wheels.
But this is not simply a 10-year car being re-released again on the market. So what's new that it can offer? Answer mainly lies in design. The new slick and stylish look of Audi R8 V10 Decennium makes for a marvellous sight for sure. It curves and edges make up a diabolically attractive car.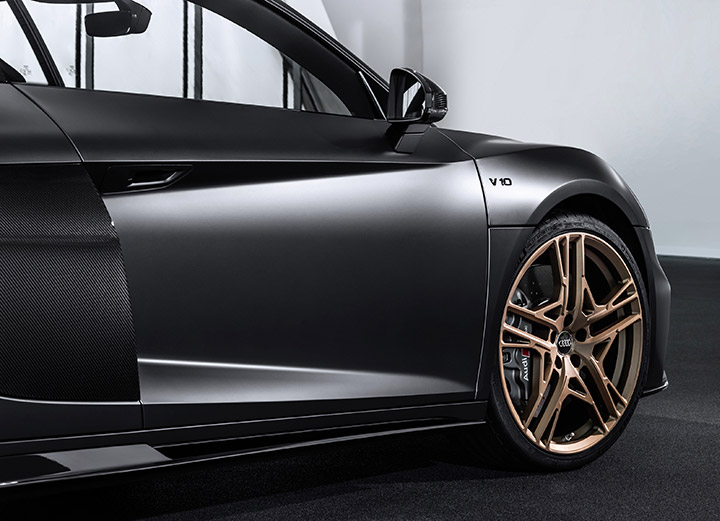 It's the only car in the series with an exclusive colour. It's called "Daytona grey" and fits the style of the car like a glove. It's not the only colour on the car. The portions of it: diffusers, side stills, spoilers come in slick black colour. Daytona grey and slick black make one hell of a combination and turn the car into the creature of darkness.
The exterior look of the car is concluded with carbon fiber side blades and (exterior) mirror housings. Not bearing in mind the technical specification of Decennium, this is an extremely good looking car. Fast, slick, stylish, powerful is the first few words that come on mind when looking at it. And this seems to be the main intention of Audi.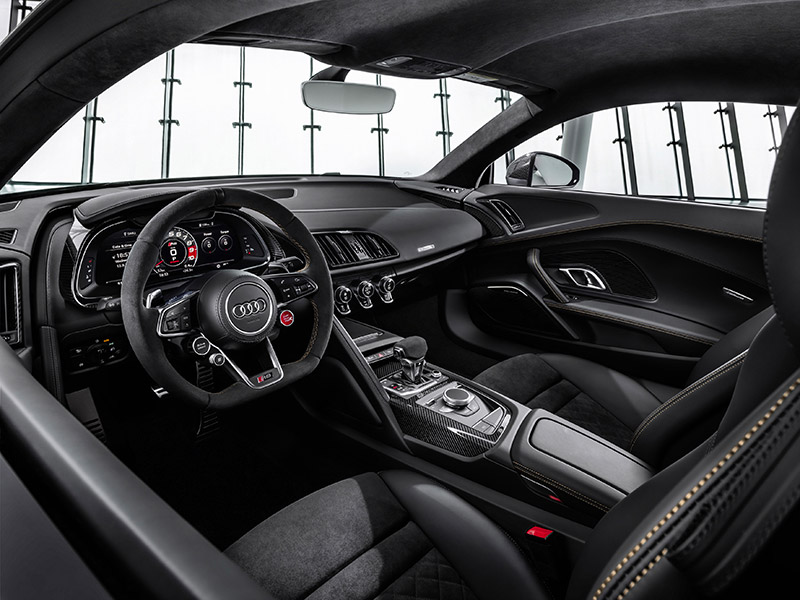 Not, let's take a quick glance into the car. After the impressive display on the exterior, the interior does not quite manage to pull the same punch. Sure, we still have that carbon fiber to accentuate the design and some copper stitching to steering wheel, seats and shifter stand out a bit. But that's it. As much as Decennium tries to impress you from outside, it does not show the same eagerness once you actually get inside.
Well, unless you count "Decennium" written with stylish typography all along the console, door sills and doors. This seems like overkill, but there is not much else present in terms of elevating interior design. And just in case to hit the final nail in the coffin your door light will also project "Decennium" the number of the model to the surface below.
This is a limited run only. The will only be 222 units of Audi R8 V10 Decennium available all over the world. This commemorative model will cost 60,000 dollars more than the standard R8, upping its prize to 252,000 dollars.