Project Metaverse is a 63-meter NFT yacht by famed naval architect Gregory C Marshall who won the 2021 World Superyacht Awards for his groundbreaking 180 mil superyacht 'Artefact.' Project Metaverse is priced at $95,000,000 and will be sold as a NFT on the blockchain.
North American Shipyard, Delta Marine has agreed to build this historic superyacht. Project Metaverse launches at the Palm Beach International Boat Show March 24th.
If sold, Project Metaverse will be the highest price ever paid for an NFT.
Cloud Yachts established strategic partnerships with some of the biggest names in the yachting industry – such as Bob Denison, Gregory C Marshall, Bannenberg & Rowell, Marco Casali, Alex Jimenez (Instagram @TheYachtGuy), and Informa Markets – to design, mint, market, and sell NFTs. 
Cloud Yachts gained momentum after the first drop of limited edition designer series NFTs were available for purchase inside the VIP section of the 2022 Miami International Boat Show.
"Cloud Yachts approached us in late 2021 with a clever concept of minting our superyacht designs as NFTs. To our surprise, they sold 10 Greg Marshall NFTs priced at 1 ETH each during the Miami International Boat Show. Understanding we were on to something, I began thinking of ways to scale our business with Cloud Yachts. We don't want to give away all our secrets but it was clear to make Project Metaverse real we would need a creative broker who not only has the clients but can also effectively communicate the experience and technology we are offering.  Knowing Alex Clarke's impressive superyacht sales history we believe he is the guy for this monumental task.  Maybe equally as important Alex purchased hull #1 of the Greg Marshall Miami NFT collection and from what Cloud Yachts tells me we have a duty to support my NFT holders " says Gregory Marshall with a big smile on his face.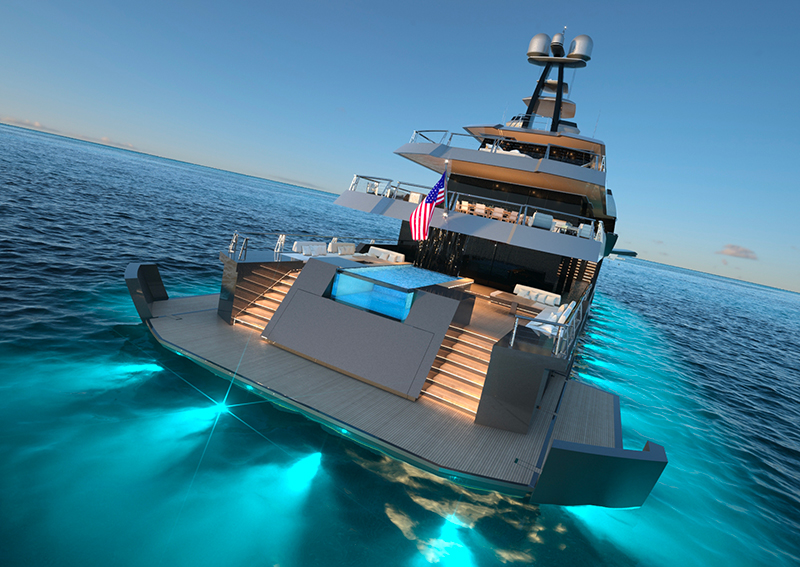 "When I first heard about the Gregory Marshall NFT new build project I knew I had to be involved as I feel this will be a groundbreaking project and implement a shift in the way yachts are built and sold. I immediately reached out to Greg and expressed my interest. Seeing the end result with his last project Artefact you can't help but feel this will be equally epic", said Alex Clarke. "Greg spent seven years as the mastermind behind ARTEFACT – which won every major award in 2021 – so I asked him, 'where do you go from here?' and he said, 'the metaverse.'. That's all I needed to hear. I am beyond excited to help pioneer this revolutionary new build process with Gregory Marshall Naval Architects, Delta Marine and Cloud Yachts. I am optimistic Denison Yachting will play an important role in locating a Buyer as excited to be part of the Project Metaverse experience as we are."
Using his connections in the industry, Clarke tapped Delta Marine to be the shipbuilder for Marshall's 63-meter "Project Metaverse.
"Alex knows what it takes to support an owner who just committed 100 million dollars and 4 years of their life to building their dream yacht. His intimate knowledge of the superyacht build process has become invaluable to Cloud Yachts as we begin to build more sophisticated NFTs like Project Metaverse. Alex's customers will have the opportunity to build their Yacht using first of its kind augmented reality technology specifically developed for superyacht builds. Project Metaverse is a tailor-made build experience never seen before providing Alex with the ultimate sales tool and the upper hand in an ever-changing market. He is much more than the exclusive broker on Project Metaverse, he has become an integral part of the team and will champion this project to the finish line."