ICONA DESIGN GROUP enters the yacht design sector with a futuristic boat concept based on one full electric powertrain. The new catamaran designed by ICONA is called "Fibonacci" and promises a completely new experience on the water. The ICONA Nucleus concept vehicle showed a new approach to road mobility and the Fibonacci translates the Nucleus philosophy into water mobility.
Fibonacci: a new approach to space exploitation
The 'Fibonacci' is the result of a sculptural design approach combined with unique storytelling. Division of space in boat design usually centers around finding creative solutions to practical problems. The ICONA design team's approach shifted the paradigm, instead finding practical solutions within the spaces created by an asymmetric architecture together with a flow through inside-outside usage of the space.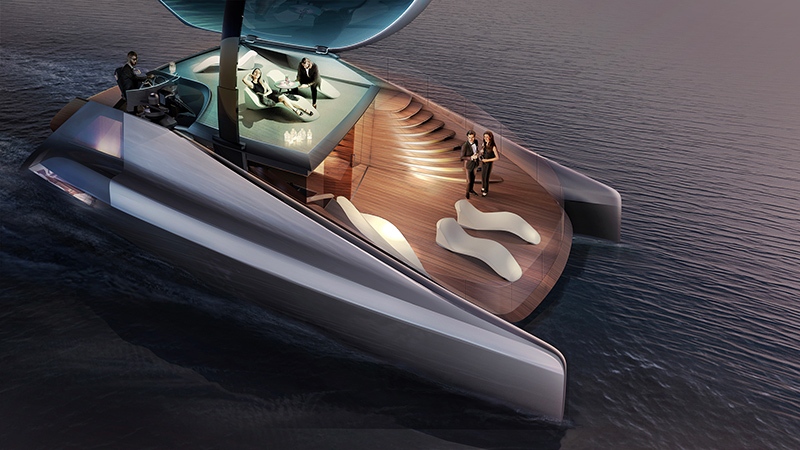 The use of asymmetry gives a sense of movement to the yacht even when it is stationary.  It certainly looks very "haute couture" as a result.
The 'Fibonacci' design reflects the elegant metaphor of a grand piano. Inspired by Fibonacci's discovery of the numbers of nature, the 'Fibonacci' combines a sculptural movement with a logical division of space between the main deck and hulls. The sweeping parabolic wooden deck creates a pass-through offering ocean views from front to back and displaying a sense of occasion created by the ornamental stairs.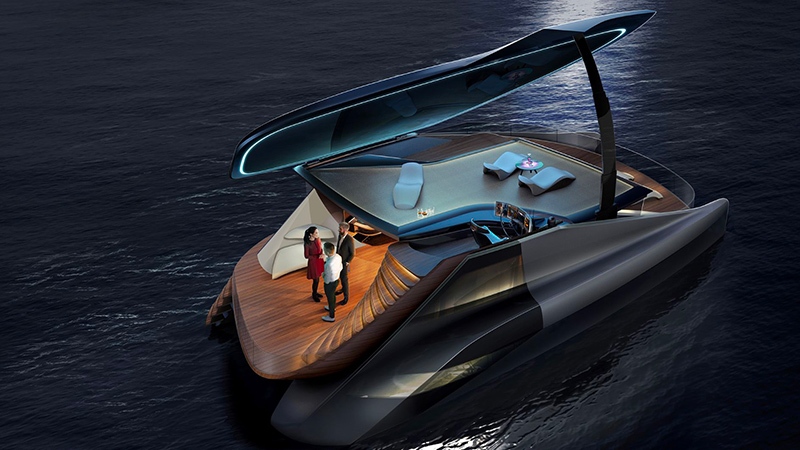 This yacht is designed to immerse travelers in a musical setting while sailing on the silent ocean. It offers a luxurious cocktail lounge perfect for hosting guests and parties. Such a simple and practical architecture not only fits the bill for a cruising vacation but would also offer the perfect scenery to gather music afficionados together for a chamber music concert on the sea…