Barbershop is not only a way of keeping your hygiene but also an important cultural institute. Their importance varies from country to country, but it is seldom for Barbershop not to have some social and cultural weight on them. There is a reason why people prefer to go to the same barber year after year. They are not simple clerks whose job is to receive your money in exchange for goods. They have actual physical interaction with you. Some of the barbers love to talk, some don't and some read there client and act in accordance. Those are usually the best. They know what type of hair you have, what's the best way to take care of them and what styles may or may not suit you. This is why people stick with the same barber, one they find a good match. And this is why it is important to give them respect and follow unwritten barbershop etiquette rules.
Be on Time
Don't be late. This is a simple, yet universal rule. It is good etiquette in a barbershop as well. You might think that is ok to be late for a couple of minutes, but it's not. If you barber is a professional, he might be running a tight ship. Even if just 2 or 3 clients will be late for a couple of minutes, the whole schedule might be off and everyone will have to suffer the consequences.
This is also the same reason why when you arrive on time, barber might still be busy with the previous client. Someone might have been late at the beginning of the working day and know because all the schedule has shifted, you have to waste your time.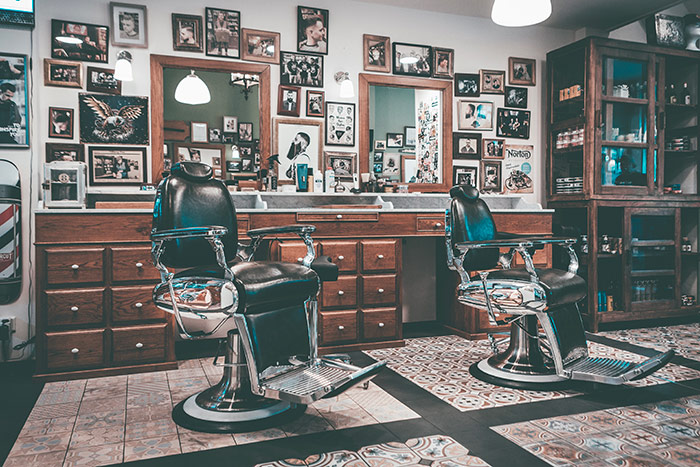 Wash your Hair
Don't go to your barber with the unwashed head. Not only it is a good manner to wash it before going to the barber, but it also helps you out. The quality of your haircut might drastically change depending on the condition of your hair. Not only will it affect the texture of your hair, but will also create an unusual landscape for the barber to navigate. Your hair and you barber will greatly appreciate if you wash your head before committing to a haircut.
Small Talk
It is a popular stereotype that barbers love to chat. And in many cases, this is true, especially if the client himself is conversational. This creates a bond and overall good experience. However, there is a caveat. When having an energetic discussion with you barber, be aware that he is handling the tools and more you move your head, more likely it is for him to make a mistake. So, by all means, keeps talking, but keep your head still.
Tip
As with any other service, don't forget to tip if you enjoyed the work of your barber. The fixed rate usually goes to a receptionist, so make sure to give tip directly to your barber.
The rules of etiquette are pretty simple and easy to follow. If you live by them, you are sure to form a long and beneficial relationship with your favorite barbershop.