25.55 meters in length (approx. 83') and 5.86 meters wide (approx. 19'), Pershing 8X stems from the collaboration between yacht designer Fulvio De Simoni, the Ferretti Group's Product Strategy Committee and the Group's EngineeringDepartment. Pershing 8X expands the current range of the brand, as it is situated in the under 30-meter market segment as an innovative product that represents a true evolution in terms of stylistic-functional aspects and performance.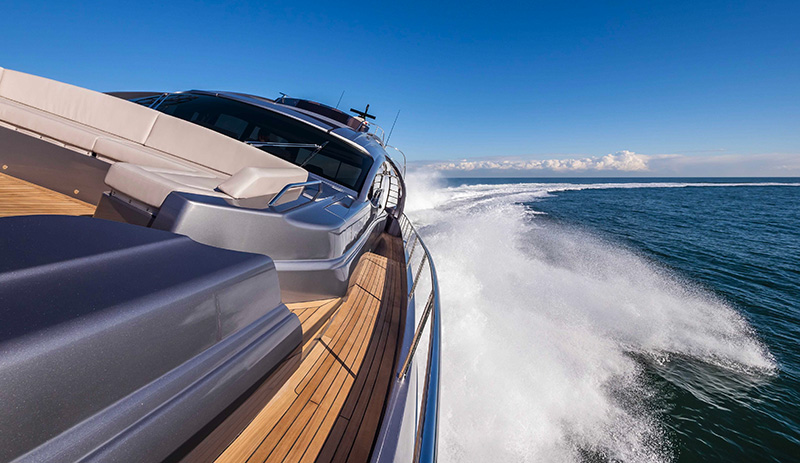 Made of carbon fibre, this new model features lines that are even sleeker and sportier, enhanced by characteristic Pershing elements like imposing side wings and the aerodynamic profile of the sundeck. The result is a yacht in the sport-fly range with an unrivalled combination of quality and innovation.
The Music Hull
The new Pershing 8X model features an innovative new element not only for the brand but for the entire pleasure craft industry: the Music Hull, which makes it possible to listen to music underwater during dive sessions or while swimming. This is a new way to experience relaxation in the sea with a listening quality never before achieved.
This innovative solution, developed by the Ferretti Group Engineering Department in collaboration with Videoworks, transforms the hull itself into a high-definition loudspeaker. Music Hull is controlled via the VOTIS infotainment system, which combines the remote controls of the devices in a single support and is expandable to the automation system in all the spaces. It can also be controlled by the owner and guests on smartphones and tablets.